K-9 Unit
---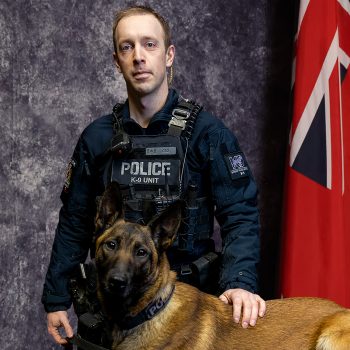 Morden town council approved moving forward with the establishment of a K-9 unit within the Morden Police Service. The decision came after a presentation was made to Council by Morden members suggesting the implementation of a joint K-9 and traffic enforcement unit. The Winnipeg Police Service K-9 unit also put on a demonstration with their police service dog to show what it can do and the various benefits of a police service dog within our community.
The addition of a police dog will be an invaluable tool that will assist us in various aspects of our daily work. There are various ways that dogs are trained for police work. Some are trained for a single purpose such as drug enforcement and the detection of illegal substances, and some are for tracking and searching. The training that the dog and handler will undergo for the Morden Police Service will be multi-functional.

Searching

A police dog's first and foremost responsibility is the protection of the residents of Morden. A police dog has a unique and heightened sense of smell. An odour that may be faint to the human nose is aggressively strong to a police dog. A police dog is able to track people based on the basic scents that the human body leaves behind. This can be used in the recovery of lost or missing children, missing persons, suicidal persons and lost or vulnerable people. It could take officers hours, if not days to locate them. These are precious hours that could be saved with a police dog here in Morden.
Tracking
Tracking in the apprehension of criminals fleeing from law enforcement is another example of the use of a police dog. Police have the responsibility to apprehend an accused before they can commit other offences while trying to escape law enforcement. Examples include suspects involved in car thefts or mischief to vehicles, break and enter to commercial and residential property, insecure buildings and building searches as well as high-risk situations where the risk to human life or the safety of an officer may be present.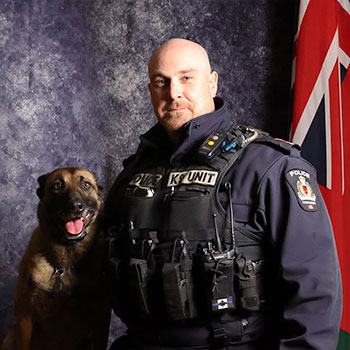 Drugs & Explosives Detection
A dog can also be trained in the detection of illegal drugs and explosive materials. A police dog can be used in various ways for this purpose such as traffic stops, schools, around school grounds, and foot patrols. Illegal drugs are a growing concern and with the implementation of a trained dog for this purpose, Morden Police can meet this challenge head-on. Police dogs can be trained in detecting up to eight different scents like marijuana, methamphetamines, heroin, cocaine and other illegal substances. This will benefit the residents in Morden by working to keep these substances out of our schools and out of our community.

Public Relations
The police are viewed as members of the community that are professional, loyal, approachable individuals the public can trust. The police dog would be another avenue for police officers to get into the schools and educate students. A police dog and public relations go hand and hand. From foot patrols with the dog to working the dog in the parks, to school presentations. The police dog, through presentations in schools, teaches students safety and drug awareness. A police dog captures the attention of young and old alike. The dog makes people feel assured of safety and shows the Morden Police Service has the proper tools and professional training to protect and serve the public effectively.